Recently, we've gotten some positive news in the fight against youth smoking and vaping. The CDC recently released the results of its annual National Youth Tobacco Survey, which revealed a decline in youth vaping for the second year in a row.
While this is good news, the CDC and other regulators are only cautiously optimistic that this will mean a sea change in youth tobacco use.
What did the survey say?
The National Youth Tobacco Survey has been conducted annually since 1999. Historically, the survey was administered in schools; this year, they conducted it online to accommodate students participating in virtual learning. They measured overall cigarette use, frequency of use, device type, flavor, and usual brands.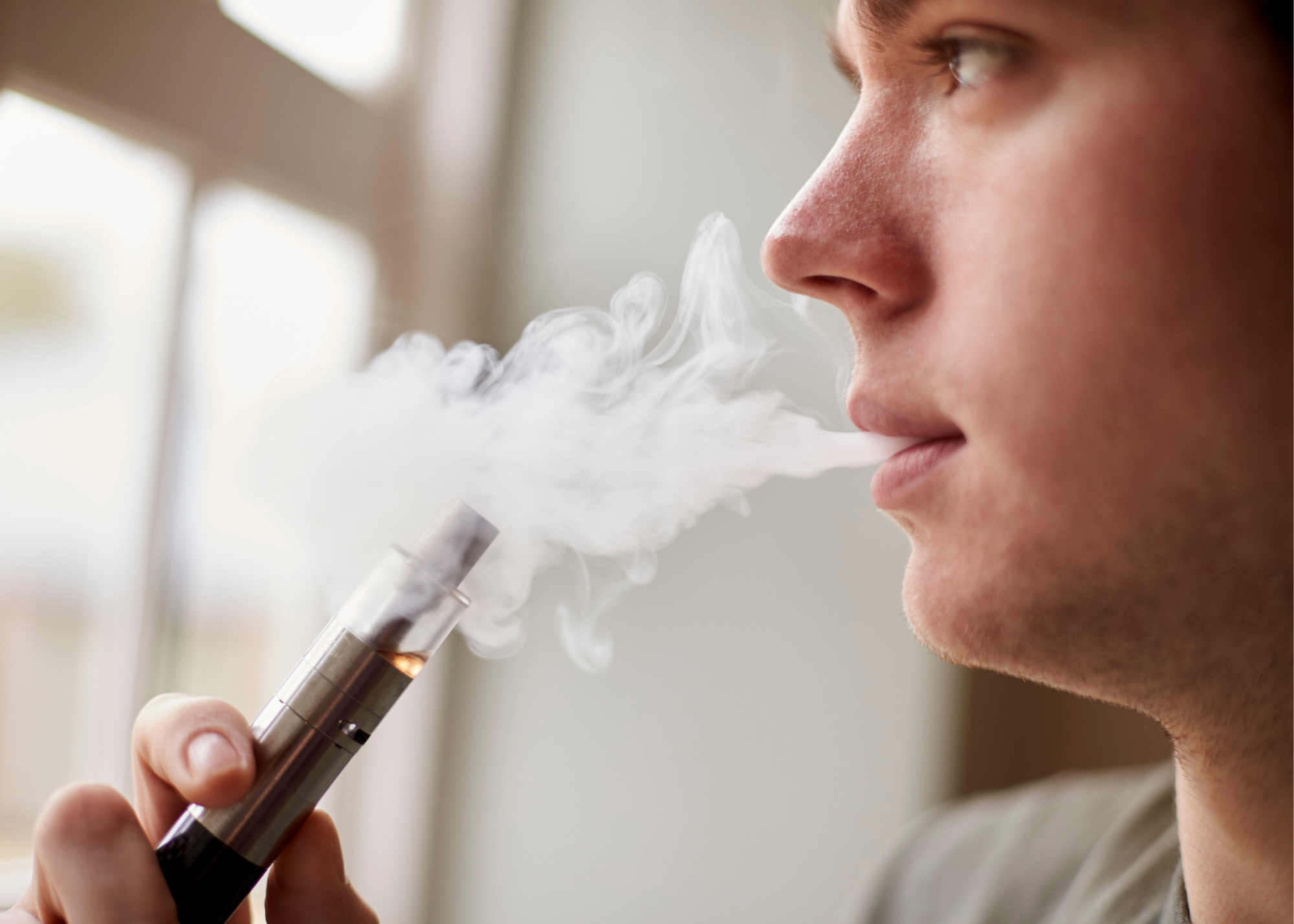 Some of the survey results included:
In 2020, more than 4 million youth reported using a tobacco product in the last 30 days, representing a decline from 2019.
In 2021, more than 2 million youth in the United States reported using e-cigarettes, making e-cigarettes the most popular tobacco product for Americans under the age of 18.
The percentage of high schoolers who reported vaping in the last 30 days fell from 19.6% in 2020 to 11.3% in 2021.
The percentage of middle schoolers who reported vaping in the last 30 days fell from 4.7% in 2020 to 2.8% in 2021.
About one in four youth who use e-cigarettes report using them daily. (This represents a decline from 2020, but still represents very high use of e-cigarettes among youth).
Why do we think this happened?
The stark decline in youth e-cigarette use is objectively good news. E-cigarette use has been on the CDC's radar for nearly a decade.
Use among teenagers spiked from 2017 to 2019, leading to several new regulations on the sale and marketing of e-cigarettes among teenagers. It might also mean that some of the recent regulations that the government has put in place for e-cigarettes are working.
But regulators aren't busting out the champagne quite yet, while we wait to see if this trend holds post-pandemic.
The FDA and CDC believe that one key reason youth smoking dropped in 2020 and 2021 is that many students were out of school for much of those two years because of the pandemic. This meant that they had much more limited access to vaping products through their social networks, and were less subjected to social pressures to try vaping or smoking. (As all of us 80's and 90's kids learned in DARE, peer pressure plays a huge role in people trying tobacco and nicotine products, but peer pressure looks different if you're not around your peers.)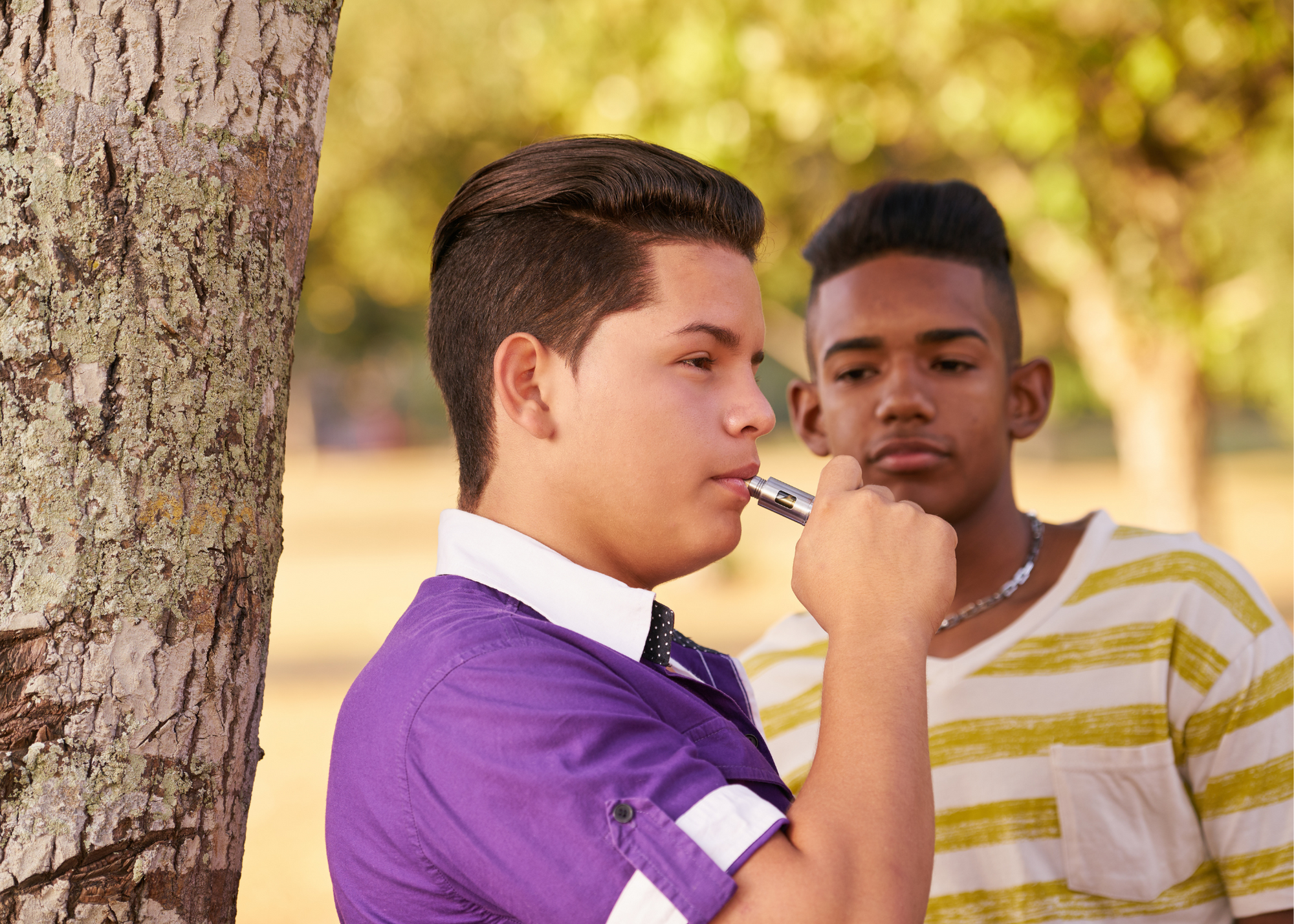 What happens when kids go back to school?
Researchers and regulators worry that now that youth are back in school, we'll see another spike in cigarettes and vaping, due to both increased social interaction and ease of access to e-cigarettes. In fact, youths who reported participating in the 2021 NYTS in a school building or classroom reported a higher prevalence of e-cigarette use compared with youths participating at home or at some other place; 15% of high school students who took the survey in a school building or classroom reported currently using e-cigarettes compared with 8.1% of those who took the survey at home or at some other place.
While this doesn't mean that being in school causes an increased likelihood of smoking, there's definitely a connection. And that's worrisome both in the short-term and the long-term.
Even though the numbers have dropped in the last two years, more than two million American teenagers use e-cigarettes and use other tobacco products even more. Youth tobacco use has been recognized as a significant predictor of adult tobacco use. According to the CDC, nearly 9 out of 10 adults who smoke cigarettes daily first try smoking by age 18, and 99% first try smoking by age 26. And research shows that there's a genuine possibility that e-cigarettes could become a gateway drug to real cigarettes, which carry many more health risks.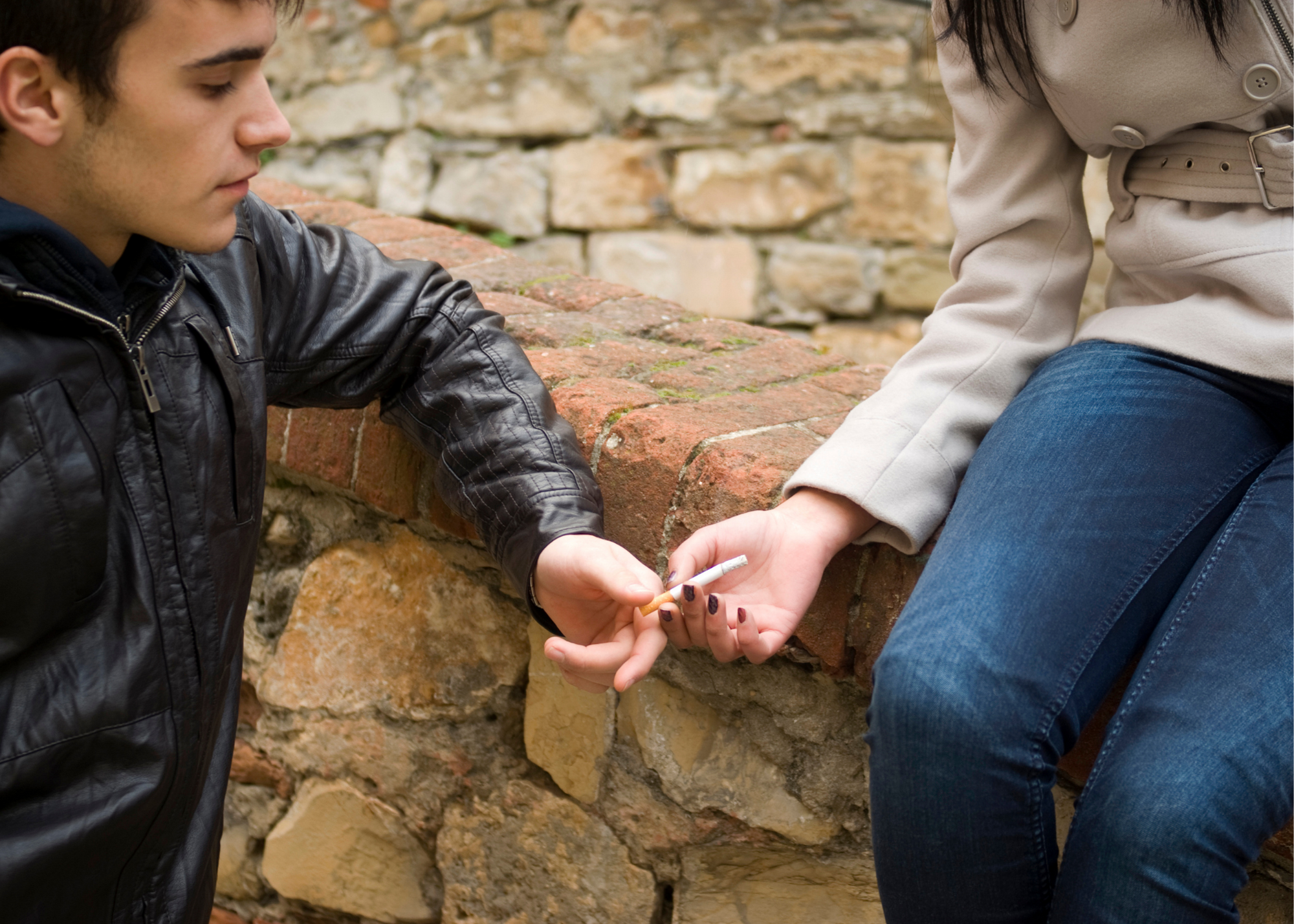 "I think perhaps the #1 concern about vaping right now is the so-called gateway effect," says Michael Blaha, a professor of medicine at Johns Hopkins University. "Our own literature suggests that 2 million young adults use electronic cigarettes as their first nicotine-based product. They're not trying to quit smoking — they've never smoked before. We might be causing the next smoking epidemic through young people getting addicted to electronic cigarettes early in life."
This can have a considerable impact on the health of our society: the CDC says that "if cigarette smoking continues at the current rate among American youth, 5.6 million of today's Americans under the age of 18 will die early from a smoking-related illness."
But wait, aren't e-cigarettes safer than regular cigarettes?
They're safer than cigarettes, yes, but that doesn't mean they're safe. Some of the dangers of e-cigarettes include:
E-cigarettes contain nicotine, which is highly addictive and can cause problems for brain development - affecting the parts of the brain that control attention, learning, mood, and impulse control.
While e-cigarettes don't contain the 7,000 toxic chemicals found in traditional cigarettes, they do still contain chemicals - including heavy metals and carcinogens - that are harmful to the lungs and can cause other health problems.
Vaping can weaken your immune system, making you more susceptible to other illnesses.
Some e-cigarettes can contain even higher concentrations of nicotine. According to the JUUL website, some JUUL pods can contain the same amount of nicotine as 20 cigarettes.
Because e-cigarettes are so new to the market, we don't have long-term data on the impacts of using them. This means that they could be just as harmful as cigarettes, or cause harm in a way we don't even know about yet.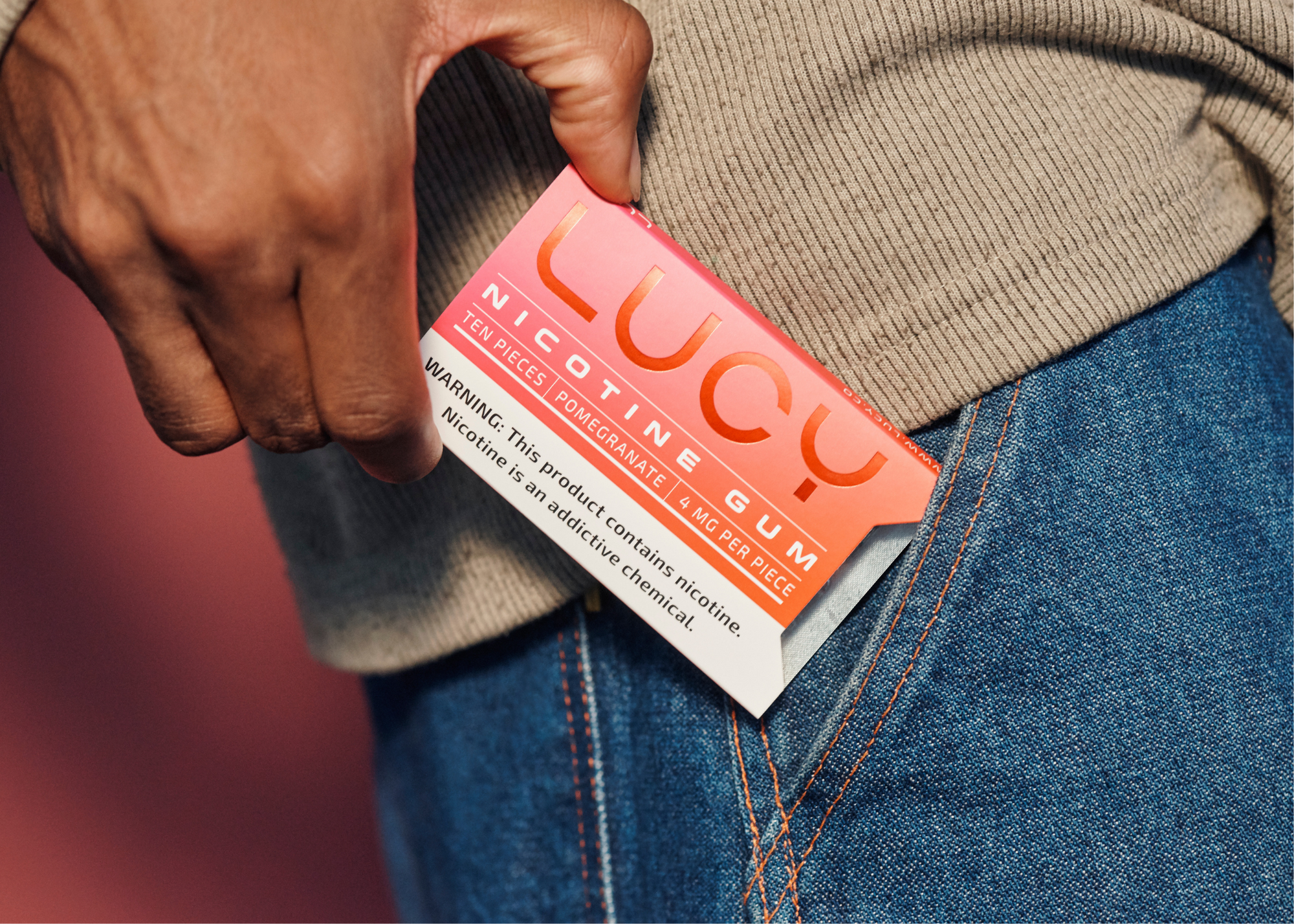 What happens next?
Because the National Youth Tobacco Survey was administered differently in 2021, it is difficult to compare the survey results to previous years. And it'll take at least another year to see the impacts of returning to school on youth tobacco use. So there's still a lot of uncertainty about what's actually going on with youth tobacco use, and what it means for future regulations.
One positive piece of news from the National Youth Tobacco Survey was that nearly two-thirds of people who reported using tobacco products in the survey also reported wanting to quit - and that's a number that we hope continues to rise in the next year.
If you're looking for a safer alternative to cigarettes, there are several better options than e-cigarettes. Nicotine replacement therapies contain low doses of nicotine without any of the harmful chemicals found in cigarettes, as well as a proven protocol that can help you cut back on smoking or vaping.
Our passion at LUCY is to make a great-tasting, easy-to-use alternative to tobacco products. Our nicotine is entirely tobacco-free and we think you'll love the tasty flavors we've worked hard to craft.
LUCY's nicotine gum, lozenges, and pouches are only approved for use by adults, but could be a great option for those looking to swap harmful tobacco products for a cleaner alternative (and stay ahead of Gen-Z).
Disclaimer: The information contained in this website is provided for general informational purposes only and is not intended as, nor should not be construed as a substitute for, professional medical or health advice on any subject matter. Please consult your physician regarding any medical treatment decisions.